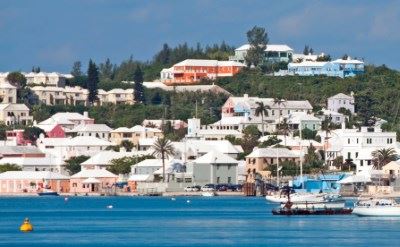 Bermuda Cruises from Norfolk
Carnival Cruises offers a cruise from Norfolk to Bermuda. It departs October 23 in 2015. The 7-day cruise departs from Norfolk on Friday and arrives in Bermuda on Monday morning. It leaves Bermuda on Wednesday afternoon, and returns to Norfolk on Friday morning.
In 2016, Carnival Cruise Line again offers a cruise to Bermuda from Norfolk. It departs October 23, 2016, and is a 5-day cruise.
Bermuda sand really is pink, and the lifestyle is decidedly British. Ride around the island on motor scooters and bicycles. Shop in the upscale stores for fine products from around the world. Try Bermuda's distinctively spicy cuisine. Snorkel or scuba-dive on the beautiful barrier reef. Play golf in Bermuda on one of the world famous courses.
Hamilton is the capital and commercial, entertainment and shopping center of Bermuda. The city's focal point is Front Street, lined with turn-of-the-century Victorian buildings in bright pastels. Many buildings have overhanging verandahs, where you can linger over lunch and watch the boats ferry across the harbour. Attractions include the Bermuda Cathedral, the Historical Society Museum and the Bermuda National Gallery. Fort Hamilton offers a bird's-eye view of Hamilton Harbour.
Stroll the quaint streets of St. George's, Bermuda, and you'll be swept back through 400 dramatic years of history. Unlike colonial Williamsburg and Jamestown, St. George's has not been rebuilt. Come and listen to the original masonry buildings and narrow streets tell their stories of English expansion in the 17th and 18th centuries. The United Nations named the Historic Town of St. George and Related Fortifications a World Heritage Site.
The Bermuda Cruise Guide is the best source for information on all Bermuda cruises. It's got everything you'd want to know about voyages to those beautiful islands.