Carnival Cruise from Norfolk VA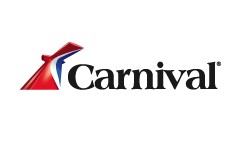 Thinking about a fun cruise from Norfolk? Think Carnival Cruises for an experience packed with mountains of food, fun-filled activities, lavish entertainment, exciting new places, and fun!
A Carnival cruise is more than a vacation. It's an attitude. It's a spirit of be-yourself fun that no other cruise line offers. From the inviting style to the friendly staff, you'll feel the difference right away.
Carnival Cruises are the Fun Ships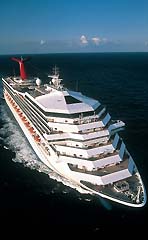 Carnival has resort ships designed for pleasure. Experience the wonderful restaurants, friendly casino, relaxing lounges, invigorating spa, exciting nightclubs and duty-free shopping. Come aboard and see for yourself why Carnival Cruises are the fun ships.
Food is a highlight of any Fun Ship vacation and today's Carnival offers plenty of dining options. In addition to revamped lunch and dinner menus and expanded wine lists, Carnival ships feature such innovations as 24-hour pizzerias and the alternative dinner-time service. Popular Lido-area eateries, which offer full breakfast and lunch buffets, now include meat-carving and pasta stations, expansive salad and dessert bars. The 24-hour room service menu has been expanded to include a greater variety of freshly made items delivered to cabins any time of the day or night.
With the increase in family cruising, Carnival is expanding the activities and facilities of Camp Carnival. Additions include computer labs and indoor climbing mazes, as well as updated kids menus, a turn-down service providing children with freshly baked cookies one night during the voyage and a youth dining program where kids can dine with the youth counselors on the Lido deck.
The whole family will enjoy a Carnival cruise from Norfolk. What are you waiting for? Have fun and explore the world on one of the cruises from Norfolk, VA.
Cruises from Norfolk on the Carnival
Carnival Cruises will return to Norfolk in 2015. Departures will be in the spring and fall. As soon as details are available, we'll post them here.